introduction
Tencent Music Entertainment Group (NYSE:TME) has been under the spotlight from analysts in recent times due to significant price volatility on the NYSE, trading between $32.25 in March and $14.31 in May. The decline attracts the attention of investors. Some investors see this volatility as an attractive opportunity to secure positions in the company and add it to their portfolios at relatively low prices. A few weeks after this huge drop, it's worth looking at Tencent Music Entertainment's financials and seeing if the drop was justifiable while trying to determine if the company is undervalued or overvalued at current levels.
Investment thesis
According to my valuation, which is based on certain assumptions from the earnings call combined with historical company data, TME is undervalued and has attractive upside potential of 24%. The company can significantly increase the number of its paid subscribers in the coming period, which will result in higher revenues.
It should be noted that the company has above-average volatility indicators, indicating above-average risk exposure. Thus, price movements are amplified during periods of volatility.
2021 performance
Tencent Music Entertainment Group has lost 51% of its value since March 23, 2021. The stock began its downward trend following the collapse of Archegos Capital Management. Margin calls on the hedge fund's heavily leveraged positions forced a massive sell-off through block trades. In addition to this slump, news about antitrust fines expected to be applied to Chinese internet giants has put further pressure on the company's market price.
Company Overview
In short, Tencent Music operates online music entertainment platforms providing music and streaming services in addition to online karaoke in China. Initially, it was formed through the acquisition of various music apps such as Kuwo, KuGou, and QQ Music from Tencent, which led to a music entertainment company with a market share in China's music streaming industry exceeding 75 %.
In 2014, Tencent's QQ platform had only 2.8 million active users, compared to about 72.2 million active users last quarter across its various platforms. According to the table below, we expect the number of paid users to exceed 80 million (for both segments: online music and social entertainment) by the end of 2021. Therefore, the company would have doubled its number paying users by the fourth. quarter of 2021 compared to the first quarter of 2019.
Our projection is a bit more pessimistic than Tencent Music management's expectations, as the company's Chief Scientific Officer, Tony Yip, mentioned:
…we said last quarter that we expect quarterly net announcements of between four and five million on average per quarter for 2021. We expect that to continue to be the case. So no change. Specifically for the second quarter, we will strive to reach the upper end of this range.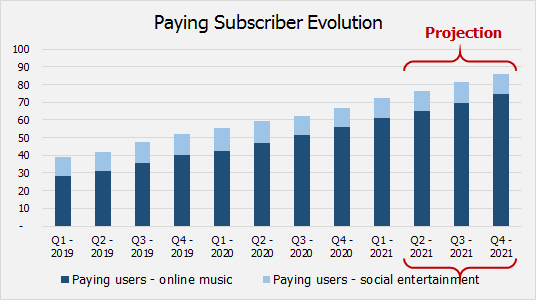 Source: documents filed by the company and calculations by the author
Solid financial performance
Revenue
Tencent Music's revenue increased at a significantly high growth rate. The company reported consolidated revenue of RMB 7,824 million ($1.19 billion), up 24% from the figure reported the previous year.
In the worst case, where revenue will increase at a decreasing growth rate year-on-year, the company may reach RMB 32.216 billion for the full fiscal year 2021. Thus, revenue will still show an annual increase of 10.5% compared to 2020.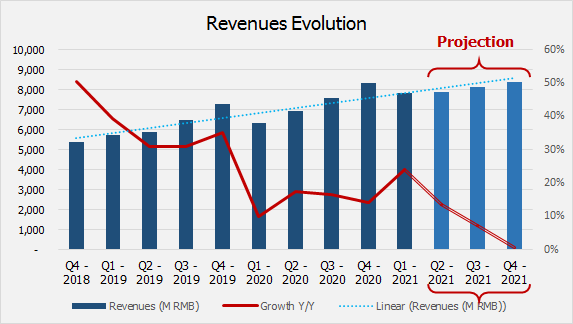 Source: documents filed by the company and calculations by the author
Other measures
Tencent Music is a non-dividend paying company, but its operating cash flow ranges between $100 million and $300 million per quarter. On the other hand, it has a negative cash conversion cycle of -62 days, which implies that its suppliers fund its operations, and it is less dependent on the cash generated by its operations.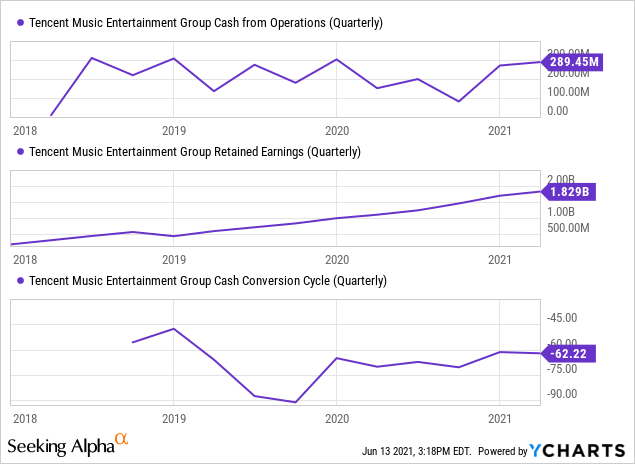 Additionally, the company is continually increasing its retained earnings, which results in a stronger equity position and provides a safe reserve for the future.
Evaluation
We had earlier forecasted the company's profit to reach RMB 32.216 billion for the full fiscal year 2021. Over the past few years, the average EV to company revenue was 6.398 . Assuming this rate remains approximately at its historical average, Tencent Music's enterprise value will be estimated at RMB 206,118 million by the end of fiscal 2021.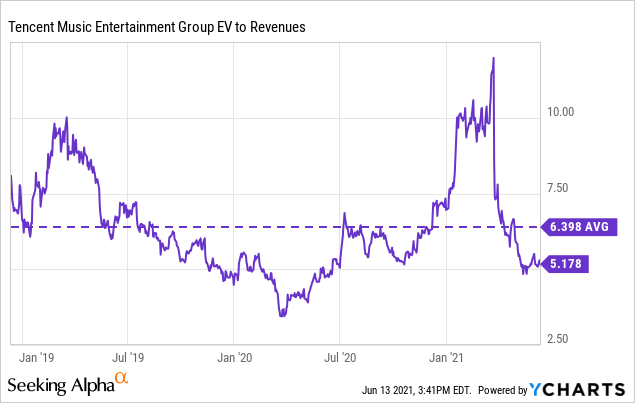 According to the company's latest filings, cash and cash equivalents amounted to RMB 10,274 million, while its long-term debt, including current portion and capital leases, s amounted to 5,525 million RMB. Additionally, we have assumed that the market value of minority interests is RMB 2,128 million, based on a 4x above average P/B.
As such, we can reach a fair value of Tencent Music's equity at RMB 208,739 million, which leads to a fair value per share of $19.17 (based on current exchange rates).
Future prospects are the main driver of any investment opportunity, especially when it comes to high growth rate companies like Tencent Music. Although we did not retain a high growth rate in our valuation, the intrinsic value of the company appeared undervalued. A more compelling investment thesis can be achieved with higher growth rates that translate into higher stock valuations.
Risks to consider
Risk of listed Chinese companies
The main risk of holding Tencent Music in an investment portfolio is that you are investing in a Chinese company. In recent years, especially under the Trump administration, Chinese companies listed on the NYSE were highly exposed to trade war risks. In addition, reports were constantly circulating that Chinese companies were being delisted and coming under scrutiny due to a lack of confidence in the figures published in their financial statements.
Balance sheet
Other risks to consider come from the company's balance sheet. As you can see in the graph below, the company's debt level increased in September 2020 after a zero long-term debt balance earlier. This indebtedness will have to be monitored over the coming period to see its evolution and its impact on the company's operations and cash flow.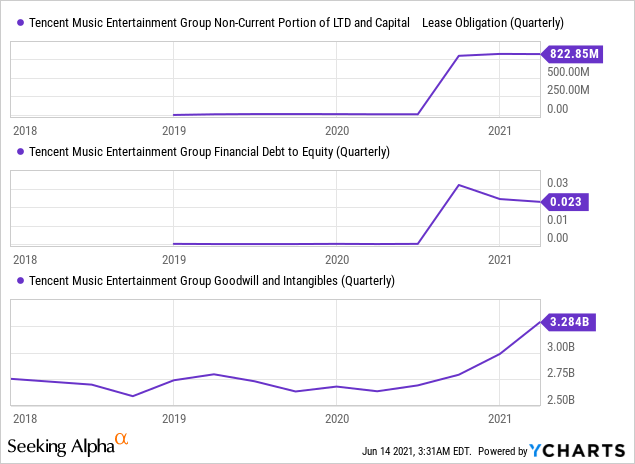 Additionally, the company's goodwill and other intangible assets have steadily increased and reached $3.28 billion according to filings last quarter. Goodwill in itself is not a red flag in a company's financial statements. However, this is an important metric for investors to watch. Since Tencent Music has acquired many companies and the estimated market value of acquired assets is generally above average, consideration should be given to the likelihood of impairment if goodwill continues to increase.
Conclusion
Tencent Music has a proven history of solid growth and an upward trend in profitability. However, following the collapse of Archegos Capital Management, the stock fell sharply to relatively low levels. Additionally, the company has become an antitrust target for Chinese regulators due to its dominant position. The company's future prospects look promising, given the strong growth in the number of paid subscribers.
According to our assessment, Tencent Music Entertainment Group is currently undervalued with a potential increase of 24% in its stock price. The current price could represent a good time to increase exposure to the company or add it to the investment portfolio. TME appears to be well positioned and capable of generating strong earnings in the period ahead. However, many factors must also be taken into account, such as regulatory risk and the capital structure of the company.